We have reached a tipping point of non-acceptance around many behaviours that are unsustainable. Large environmental problems require solutions at scale, and we now have collective demand to tackle these issues. Our new eco accelerator program starting in February 2019 will specialise in building scalable solutions to ensure we can all live in safe, resilient and sustainable communities.  Applications close 16 Dec 2018.
Let us introduce some of our impressive eco alumni.
PowerWells
Nick Kamols and Brad Clair
National winners of Price Andrew's Pitch@Palace Award on Fri 30 Nov.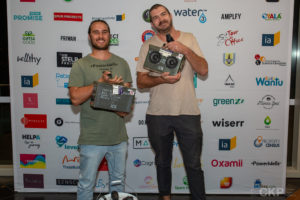 The PowerWells duo installs solar-powered battery packs created from e-waste in remote locations to allow residents to charge various devices to provide light and mobile phone charging to people in remote locations.
Light extends the productive hours of the day for educational and economic activities. The systems also replace kerosene lamps, which are known to cause health problems, are bad for the environment and are relatively expensive.
Easily accessible mobile phone charging means that people can get more from their phones. Benefits from mobile phones are broad, including access to educational materials, increased opportunity for economic activity, increased social connectivity and improved communication during emergencies.
They set out for England this week for the  Pitch@Palace global challenge and we wish them the best of luck.
https://www.couriermail.com.au/questnews/logan/logan-startup-powerwells-joint-winner-of-pitchpalace/news-story/672c8e95892d3aee522ba42d5bae3612
ENVIROSAND
Jim McKnoulty
Envirosand is an Australian-owned company producing quality manufactured sands made from 100% recycled glass. Using innovative recycling technology developed at the Brisbane manufacturing plant they recover glass waste previously destined for a landfill, converting it into a valuable glass powder.
They provide a sustainable alternative to the mining and processing of virgin quarried sand products, for use in the construction industry.
While excessive mining is depleting our natural resources, a deluge of glass waste threatens to inundate our planet with landfill; Envirosand aims to provide an environmentally sustainable alternative for the future.
Good Beer Co and the Great Barrier Beer
James Grugeon
The Good Beer Co. is Australia's social enterprise beer company. It exists to brew and sell beer to raise funds and awareness for good causes. Its aim is simple: to make it easy for you to enjoy a good beer and give back.
Great Barrier Beer is The Good Beer Co's first good beer that gives back. Brewed for The Good Beer Co by an award-winning independent beer company, Ballistic Beer Company, at their brewery in Brisbane, it raises funds for its charity partner, the Australian Marine Conservation Society's work to protect the Reef for future generations. Great Barrier Beer is a crisp and refreshing 4.5 percent Australian Lager handmade with all Australian ingredients.  Ten percent of the price of every carton sold will go directly to the Australian Marine Conservation Society to help fund their work to protect the reef.
Great Barrier Beer and the partnership between The Good Beer Co. and the Australian Marine Conservation Society is a 2018 finalist in the prestigious Banksia Sustainability Foundation Minister for the Environment's Award in Australia.
James, the founder of the enterprise, is one of the of the Queensland Government's 100 Faces of Small Business and was a finalist in this years Lord Mayor Brisbane's Business Awards.
Here's a report from Australian Brews News on the launch of Great Barrier Beer Australian Lager: https://www.brewsnews.com.au/2018/10/16/great-barrier-beer-strikes-back/
Yes we CAN save the Reef!
Water 3
Damien Stone and Leicester Chatfield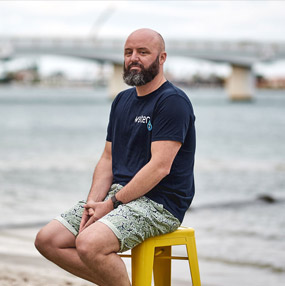 Water3 is an Australian social enterprise which launched in 2012 by co-founders Damien Stone and Leicester Chatfield.  At the time, Damien saw little being done to combat plastic pollution from water bottles and decided to create a solution.
Water3 has developed a network of cashless water refill stations to help people access, clean, chilled water, without resorting to purchasing single-use plastic bottles. It is about challenging people's behaviours around single-use plastic bottles; providing cleaner, greener, and healthier alternative.
Each kiosk comes with the option to refill your own water bottle or purchase a 500ml Water3 bottle. The Water3 bottles are double-walled vacuum sealed and insulated stainless steel, so the liquid inside remains cold (or hot) for up to twelve hours.
Each bottle features an RFID chip (contactless payment technology) in the lid, linked to your account (created on the Water3 site or app) so you just swipe the bottle and payment is automatically deducted. Alternatively, you can use your own bottle and pay via paywave.
Currently, Water3 kiosks are only available in South-East Queensland, but they plan to expand globally throughout 2019.
Watch Damien Stone's My Greater Outcome Video  HERE
Like what you've just read? Let us know your thoughts and register for more of where that came from.
Applications Now Open
for next Accelerator Programs