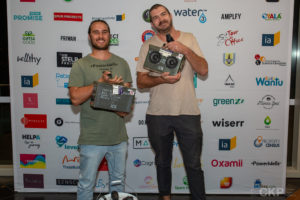 Thursday 6 September 2018. QUT Gardens Point Campus.
It's not that often you get the opportunity to hear truly inspirational entrepreneurs pitch business models that are as committed to pursuing economic returns as they are focused on addressing some of the most complex social and / or environmental needs of our communities.
On Thursday 6 September, we hosted our eighth Impact Academy Showcase and Marketplace and it was another fantastic night. Our most recent tribe of social enterprises completed the rigorous Impact Accelerator program, and pitched their ideas in order to demonstrate what they have achieved and how others can get involved in their exciting future.
We received many compliments on the quality of the social enterprises that pitched and the amazing businesses they are launching  and scaling.
For anyone interested in finding out more about the prospect of getting involved with these change makers please contact us at info@greateroutcomes.com.
Like what you've just read? Let us know your thoughts and register for more of where that came from.
Applications Now Open
for next Accelerator Programs